Kentucky Teacher Seen Dragging Child With Autism Through Halls is Fired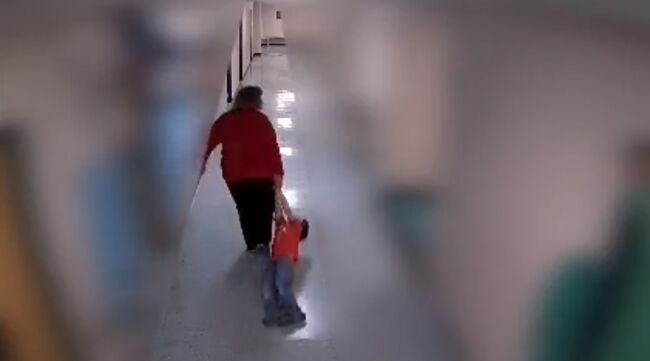 A Kentucky teacher who was caught on camera dragging a young boy with autism down a school hallway by his wrist has been fired, the district announced on Monday.
The teacher, identified as Trina Abrams by WCHS, was spotted in video posted to Facebook dragging a 9-year-old child out of a classroom and through multiple halls at Wurtland Elementary school in eastern Kentucky.
"You want to walk," the teacher can be heard asking the 9-year-old at one point in the surveillance video.
"No," the boy replies.
At one point, Abrams stops, telling the 9-year-old to "Get up!" and pulls at the boy's body even as he refuses to move. He's then dragged on his back and then on his knees.
The teacher was fired on Monday, more than two months after the incident was first reported back in October. The teacher is scheduled to be arraigned on Wednesday morning on a charge of fourth-degree assault, a misdemeanor, according to WSAZ.
Angel Nelson, the boy's mother, posted the video to her Facebook page, writing that her 9-year-old has been diagnosed with autism, ADHD, PTSD, anxiety and depression.
"My son deserves justice," the boy's mother, Angel Nelson, wrote on Facebook. "The fact that my son is not able to fully verbalize what he went through means that we must fight that much harder for all kids, but especially the kids who cannot speak for themselves."
"Mrs. Abrams forcefully grabbed my son by the wrist and bent it backward while he was experiencing a meltdown (which he sometimes experiences as part of his diagnoses)," Nelson wrote on Facebook. "After he let go of the chair, she grabbed him by the wrist and drug him down the hallway from one classroom into another, according to school video footage."
Nelson writes that immediately after she learned about the incident, she took her 9-year-old to the nearest hospital where X-Rays were performed on his wrist and tailbone.
"The doctor diagnosed him with a possible left wrist fracture. Since this, he has also had MRI's of his wrists," Nelson wrote in her post. "He had a confirmed sprain in one of his wrists. In the days following, he suffered swelling and bruising around his wrist."
The Greenup County School District said in a statement that Child Protective Services and the Kentucky Education Standards Board have both been made aware of Abram's actions in a statement on Monday.
"The Greenup County School District prioritizes the safety of our students. The district followed established safety protocol as soon as this situation became known. The parent was contacted immediately and the student was assessed by the school nurse and referred for outside medical evaluation. Child Protective Services was contacted and the Kentucky State Police opened an investigation.

"The teacher was removed from the school and a formal investigation was conducted. The superintendent also followed protocol and reported the incident to the Kentucky Education Standards Board. The EPSB determines whether or not a teacher keeps their teaching certificate. All GCSD staff are trained to prevent incidents of restraint. Each school has a specially trained team to address immediate issues. In addition, each school has teachers specially trained to address autism related behaviors."